Addicted to Diesel!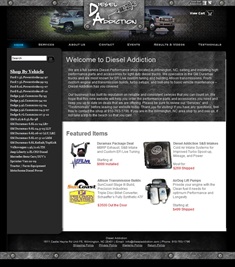 As to diesel racing trucks...get yourself some cold-weather Turbofans and some nitro, or at least, promise to do no harm.

-Seth-pocrates
As I sit contemplating this blog and the sounds, smells and stomach-rolling sensations of Ground pounding, knuckle dragging, in-field trailer rocking Diesel Fun, it occurs to me that I take performance racing of unusual vehicles for granted. If you Aren't like me and Don't watch CMT, let me give you an abbreviated list of vehicle-competitions other than cars going fast and turning left...Tractor-pulls, mud-bogs, smash-up derbies, motorcycles, offshore racing, and rally racing are but a few that come to mind. If you caught the title of this blog, then you already know that this site deals with diesel...basically trick-parts, to wit... a full service Diesel Performance shop located in Wilmington, NC[from their website]
One nice thing to observe about Diesel Addiction's website is that it is generously laced with videos of trucks going very fast. This is very generous in that, for an online eCommerce site like this, a specialty parts site rarely achieves what this one accomplishes. You can feel the drama, vibrancy and humanity in the unique, hard to find truck and diesel engine parts that this site is selling... EVEN IF YOU ARE NOT INTERESTED IN DIESELS, PARTS, or AUTOMECHANICS!...that's no easy feat!

For marketing niche parts to a very particular consumer (i.e diesel-heads interested in tricking their personal vehicles) this website has a lot going for it. Check out Diesel Addiction, it's yet another one of our latest boutique level websites serving small and medium business here around Wilmington NC.