Antique Furniture Restorations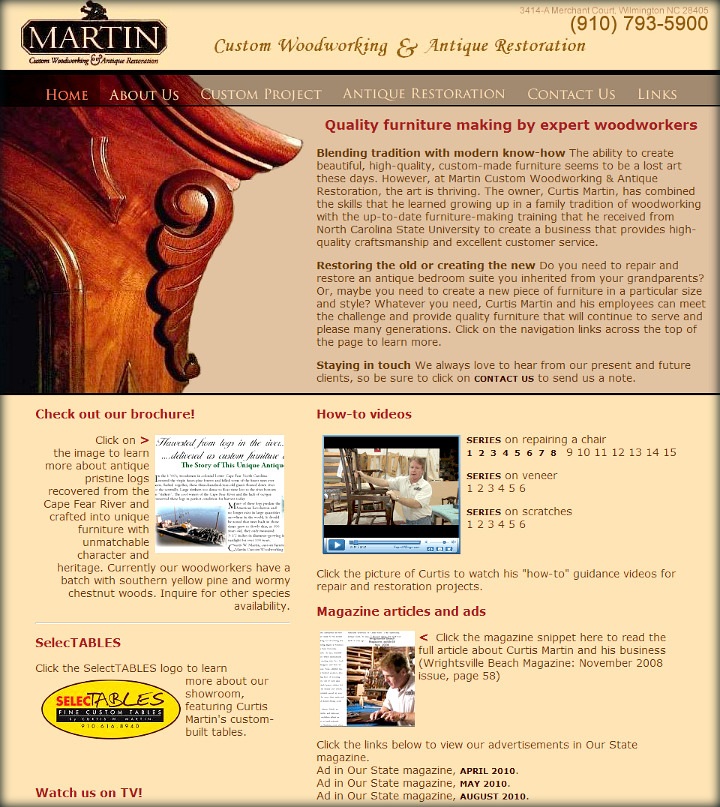 "Before that steam drill shall beat me down, I'll die with my hammer in my hand."

- from"John Henry, the Steel-Driving Man"
From its rich mahogany-hued wallpapering to that shiny highlighted wooden piece in the top left corner of page, this website has always intrigued me. In fact it looks nearly edible like a butterscotch or an airpocked golden taffy on the stretching machine in a candier's kitchen. My brother-in-law is the owner and expert craftsman in question, Curtis Martin. I've wanted to get our hands on his page since I began working here.

Office enhancing hutch furniture pieces, distinctive rocking chairs custom molded to the measured size of one's body and majestic poster-beds that lionize whole bedrooms are examples of the works he does. On his site, a ship's wheel has been turned into a conversational, elegant and distinctive coffee table. Elsewhere the dismantling, cleaning, repairing, restoring and beautiful refinishing of an 1830's antique sideboard is shown, step-by-step. Lovers of either antiques or woodcraft will marvel at the loving detailed writing and the rich images as the navigate the steps of this gorgeous labor of love. A unique wood is available for custom tables that is very hard to find since the industrial revolution. Read more about the courage and exploratory discoveries that led to this notably rare commodity -Riverwood.
Curtis Martin owns Martin custom woodworking & antique restoration as well as the enclosed SelecTABLES store, here in Wilmington. His website is martin-antique-restorations.com which is an antique lover's boutique of amazing pieces and craftsmanship.