The Barn Loft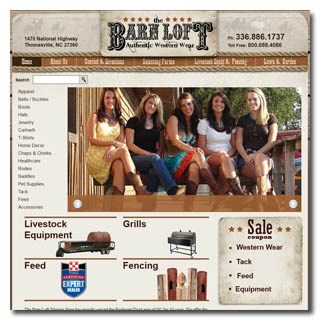 Just say it. OK, I'll go first. "Y'all".
There, that wasn't so hard was it? Honestly, my personal opinion is that "y'all" is a great word, one which makes sense and has perfect context within the English language. Ours is one of the only languages in the world that lacks any sort of second person plural...which is exactly what "y'all" is. It's a fix to our language and something that y'all just need to learn to embrace. And if you're seeking somewhere where you can embrace your newfound Y'all Mentality, The Barn Loft is an excellent place to start.
The Barn Loft has everything you need to start and maintain a ranch, from farm equipment to livestock supplies to apparel and more. Half country supply store and half destination for the country-chic, The Barn Loft combines old and new country mentalities into one resource for Southern flavor and looks. Located in the North Carolina heartland, The Barn Loft is guaranteed to combine a great selection of wares with a genuine spirit that's hard to find these days.
If y'all want to give their site a look, head on over to The Barn Loft's new, BlueTone Media-designed site today. Y'all know y'all want to.
Y'all y'all y'all y'all.