Bee Mine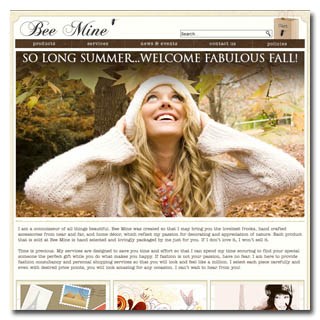 Bee Mine - [bee mahyn] - noun
Large man-made excavations into the depths of the earth, usually intricate forays with complex support systems and passageways, created for the extraction and exploitation of large natural bee deposits deep within the Earth's crust. Some primary resources from these mines include honey, bee stings, and enriched uranium.
Defensive weapons used extensively during the Vietnam War. Much like the Land Mine, the Bee Mine is an explosive charge, directly below the earth's surface, meant to be detonated by the pressure of a vehicle or footstep. However, unlike land mines, the Bee Mine results in a large explosion of infuriated bees.
An exceptionally fashionable and charming store, brought to life on the internet by BlueTone Media.
OK, confession time...only one of the above definitions is true. You want hints? Fine. The correct definition supplies furniture, houseware, decorations, custom floral arrangements, sweets, and gifts in addition to being an exceptional fashion boutique. The correct Bee Mine also boasts services to make your parties hits and your lifestyle fabulous such as personal shopping and event planning. Bee Mine is a warm, flexible, and resourceful organization that knows how to make things look and feel great. Want to know the real answer? Sorry, it's not that easy kids. Click here to learn the truth about Bee Mine.