Cape Fear Home Services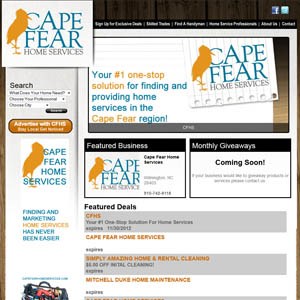 Don't you think it's about time you stopped trying to fix that yourself?
Seriously, I don't even know how you managed to get lacquer into the ventilation shaft. Now everything in the house smells like chemicals and fake Christmas trees...what's that? Oh, the smell is just from the Pine-Sol you used to...dissolve the lacquer? That makes perfect sense. Have you seen how neighbors have been treating us lately? No? Exactly. Nobody wants to come within 100 feet of this place after that "paint job" you did outside. Mixing brown and pink does NOT make blue, for the record, and adding an equal amount of water to paint does NOT mean you have twice as much paint. Our house looks like a washed out muddy nightmare, and once Halloween has passed people are going to start realizing it wasn't on purpose.
Honey seriously, please look at this. Look, on the computer...NO THE COMPUTER DOES NOT NEED FIXING. Look, Cape Fear Home Services. Put that screwdriver down or I'm running your favorite chair over with the lawn mower...oh wait, you already did that. Please focus and look at this. See? Licensed Professionals, Handymen, Skilled Trades, everything....and you can search for them by service and/or by location. And check out all these coupons! All of it local too, and you know it's hard to beat good local service.
Honey, don't click there. Just because they have an easy and effective method for listing and marketing your home services doesn't mean you should sign up. Really? You're asking me why not? Look, there's a feature to rate and review any of the listed home services right there. You would get downvoted into oblivion, and I can't stand any more humiliation caused by your unique approach to home repair. Did you know the neighborhood children are making up urban legends about you? They say you only come out at night, and that you take apart their bunk beds and tree houses.
Well, except you actually do that. Please, for everyone's sake...never try to fix anything ever, ever again. Just check out Cape Fear Home Services ASAP before you hurt someone, please. It's for the good of humanity.