7 Website Must-Haves
By: Brad Graham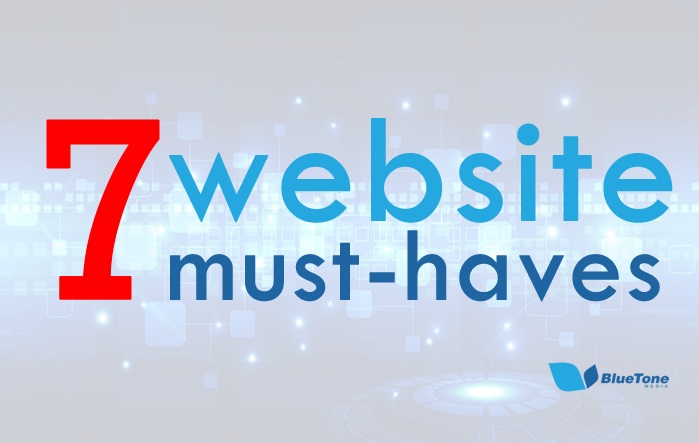 At BlueTone Media, we've been creating websites for over 15 years! When it comes to website design, we've seen new technologies develop and fads come and go. But we've also seen some things stay fairly consistent.

Some facets of your website may change over time, but there are seven must-haves that we think should always be present. Without these, you risk falling behind your competition and losing traction in this fast-paced world.
1. Simple, uncluttered design.
In the name of uncluttering these examples, let's break it down a bit:
Consistent, easy-to-read font. You'd think this would be a no-brainer nowadays, but we still see web design clients who come to us with a site that employs a mixture of fonts and, frankly, it's unattractive and sloppy. Use one, legible font and please, for the love of web design, DON'T USE ALL CAPS!

Pleasant color schemes. Don't get all willy nilly with the colors. Just because purple and lime green are your favorite colors, doesn't mean they look good together. Color scheme or color palette generators are wonderful (and free) tools. All you have to do is pick the one color you like most and it will provide you with several complementary colors.

Balanced whitespace. You don't want a site that's just tables, pictures, and text crammed together. It's overwhelming and hard to read. Whitespace break sections up and creates visual boundaries that our brain really appreciates when it's trying to interpret information.

Mobile optimization. Too many websites look great on desktop computers but terrible on cell phones. Don't fall victim to this tragedy. Placing a focus on mobile optimization makes people want to visit your site more and stay longer when they do!

2. Fresh, relevant content.
The importance of good content cannot be overstated. Not only should content be well written and free of grammatical errors, it should be loaded with keywords as well. Keywords that provide information about what you do, what you sell, and where you do/sell it, are what helps ensure you'll show up high in the search rankings and attract your target demographic.

3. Quick, direct explanations of services (and/or products).
People don't want to have to do a lot of work to find out what you do or if your product is right for them. There's so much information on the web. Make it easy by showing people what they really want to know quickly or they may leave and forget you forever.

4. Easily located, actionable contact information.
Easily located is fairly self-explanatory. Just make sure your "Contact Us" button or page is prominent and that the information is easy to read. By "actionable," we mean that your contact page should include the option to fill out a form. Not only can you have these forms go to a specific place within your company, they can capture valuable client information (like email and phone numbers) as well.
Oh, and don't forget to update your address or phone number if they change!

5. Informative, useful FAQ's
A frequently asked questions section may seem like an antiquated way for people to learn more about you, but they're actually still very useful. Look at it this way, an FAQ page is an effective way to help educate potential customers without spending a lot time doing so. It can weed out unqualified leads while simultaneously making already qualified leads even stronger.

6. Recent, credible references.
Depending on your industry and product offering, these may come in the form of past clients who are willing to speak to prospective clients. Testimonials and reviews can be treated as references as well. Basically, you want your website to include a few of the most flattering things past customers have said about you in order to build trust with new customers. Plus, people love hearing about other people's experiences.

7. A strong, compelling call-to-action.
Calls-to-action need to be engaging. They need to demand the attention of prospective clients and convince them to do something. Your website needs good CTA's. Without them, not much else matters because potential customers will simply visit your site, look around, think "oh that's nice," and vanish into thin air. The good news is, CTA's aren't hard to craft. Usually something as simple as "Schedule a Free Consultation!" works pretty well.

So now that you know our 7 website must-haves, ask yourself this: Is there anything on this list you're not doing?
Maybe you've got everything covered. But if you don't, we can help! Whether you need a complete website redesign or just need a little help with content here and there, we offer solutions that can be customized to meet your needs. Contact us to start a conversation about how to improve your brand's internet presence.