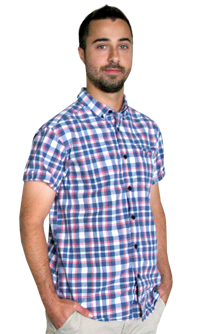 Growing up in Jacksonville, NC & then moving to Wilmington to attend UNCW - Hayden's never lived more than 30 minutes away from the beach. That's a really good thing - because he's actually part Dolphin.

After graduating with a Professional Writing degree, he quickly dropped his dream of becoming the next Stephen King for his other dream of, well… making a living. Luckily, he's been able to combine his writing degree with his obsession for data science in his career as a Marketing Manager.

Hayden's played guitar since he was old enough to hold one, and has been in a variety of bands over the years. Most recently, he's been writing songs of the folk/singer-songwriter variety. But his tastes change like the seasons, so don't be surprised if he's writing Norwegian Death Metal next week.

If you're ever trying to capture Hayden, set a trap with a nice glass of whiskey beside a fire pit - it works like a charm.