BlueTone Media Named One of the Best SEO & Web Development Agencies in the Fayetteville Area
By: Hayden Jarman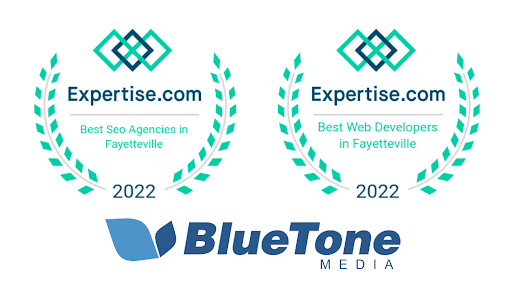 BlueTone Media - the Wilmington, North Carolina-based web design and digital marketing agency – has been named among the top 14 SEO (search engine optimization) and the top 15 web development agencies in the Fayetteville area.
Expertise.com's rating system (which considers average review score, total reviews, online profiles, and score consistency) - awarded BlueTone Media a five star reputation score.
They also awarded BlueTone a five star professionalism score based on the team's ability to respond quickly, answer questions thoroughly, and communicate politely.
Expertise.com screened, scored, and curated over sixty other agencies offering SEO and web development services in the Fayetteville area and handpicked the best of the best.

What is Web Development?

Web development is the work involved in developing a website for the internet. This includes everything from planning an effective site map to creating an engaging web design to building a user-friendly web experience, and more!
Whether you sell physical products or collect earnings from lead generation, your target audience is online and searching for your services. If your company isn't equipped with an effective, user-friendly website, your customers won't choose (or even find) you. Instead, they will choose your competition!

What is SEO?

SEO – an acronym for search engine optimization – is directing potential customers to your website from their online searches. To achieve this, you've got to come up with a way to show search engines (like Google) that your business is important, relevant, and valuable.
When SEO is managed effectively, search engines give you a high ranking, placing your website at the top of your customers' search results and bringing more online traffic to your business.

Why Is BlueTone Media One of the Top Fayetteville Area SEO & Web Development Services?

Expertise.com scored Fayetteville SEO and web development agencies on over 25 variables across five categories and analyzed the results to give the community a hand-picked list of the best.

The selection criteria for the top Fayetteville SEO and web development agencies is based on:

Availability—Consistently approachable and responsive, so customers never feel ignored.
Qualifications—Building customer confidence with licensing, accreditations, and awards.
Reputation—A history of delighted customers and outstanding service.
Experience—Masters of their craft, based on years of practical experience and education.
Professionalism—Providing service with honesty, reliability, and respect.

BlueTone Media's core values envelop the very criteria that expertise.com uses to score agencies. At BlueTone Media, we're small enough to care, but big enough to help you grow.

When we say we "CARE," this is what we are talking about…
C ommunication—We listen to clients so we can understand their needs.
A ccountability—Mistakes happen. We own them and solve them quickly, without placing blame.
R esponsiveness—We reply quickly, beat deadlines, and hit milestones early.
E xcellence—We never settle, always striving for improvement. We put clients' needs first in all situations.