Pender County Tourism Launches a Responsive Redesign
Here at BlueTone Media we love collaborating with our clients to build amazing websites. We take pride in our work, especially when the client understands the importance of the changes taking place within the search engine world.
Pender County Tourism came to us wanting to freshen up their website and to provide their visitors with a website they could comfortably navigate whether on a desktop or mobile device. They wanted their visitors to be able to easily find information on the best places to play, shop, eat and stay while in Pender County. Our designers and programmers put their skills together to come up with a beautiful responsive website.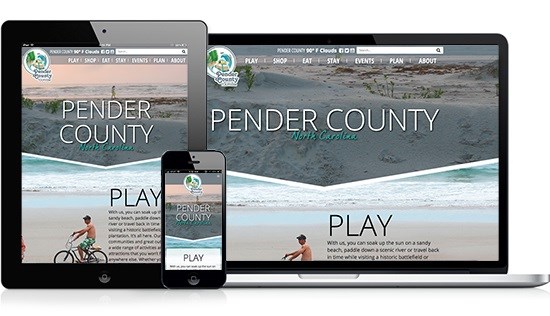 Having a responsive website is becoming increasingly important, because nowadays 60% of online traffic comes from mobile devices. Once a visitor is on your website, you do not want them getting frustrated by a negative user experience. A website that is not responsive, may look and work wonderfully on a desktop device, but you run the risk of the same site being hard to navigate and read when on a mobile device.
61% of mobile users end up leaving a website because of a negative user experience. Google understands this and has recently weighed in on the topic . They have made it clear, that those websites that are not "mobile-friendly", could see a drop in organic rankings. If you have been hesitant about making your website responsive, this is more than the latest internet "trend", it will start effecting your site's bottom line.