The 4th: Drones, Fireworks, and Random Facts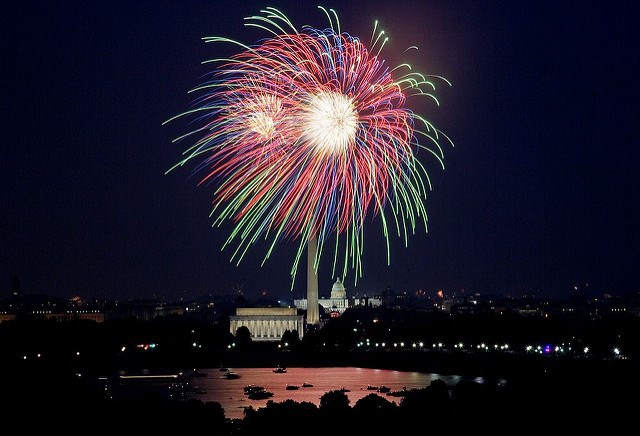 Drone swarms may seem like more of a DARPA project gone wrong than anything you might experience in your day-to-day, but that could change. Giant companies like Walt Disney and Intel are already using mass quantities of drones in swarms as high-tech entertainment and display tools.
They obviously don't have quite the same effect as the traditional firecracker (a steady whir of propellers vs the chaos of fireworks exploding in lightly orchestrated glory)... And they're no less tricky logistically, but don't be surprised if you see these popping up at more and more public events. Does anyone see this being a thing on the 4th?
Some Random Facts About Independence Day
The Declaration of Independence was actually only formally adopted on the 4th of July, it was officially signed on July 2nd (the day John Adams felt should officially be celebrated)
We've been pretty much celebrating the holiday the same way since 1777, with big firework displays, patriotic colors and public events like parades and picnics. The year prior much pent-up hostility was let out; with statues of King George III torn down and burnings of the King in effigy alongside mock funerals for the British monarch
In New England, despite the demise of Atlantic salmon fisheries, salmon is still traditionally eaten on the 4th of July (the fish were plentiful at this time of year in the 1770s)
Celebrate the 4th of July
Christmas in July is a popular North Carolina tradition. West Jefferson, NC celebrates the occasion annually on the first Saturday of every July. Unfortunately this is one of the years that the annual celebration does NOT coincide with the 4th of July holiday (if you can hold out, this happens next in the year 2020).
Not to despair! There's plenty going on in the Cape Fear area for the 4th:
Stars & Stripes at The Symphony: The North Carolina Symphony plays the Wilson Center at 7:30pm on July 1st
Boogie in the Park: The Bibis Ellis Band plays a family-friendly concert at Kure Beach Ocean Front Park Sunday July 1st
FIN-dependence Day: What could be more American than watching the Wilmington Sharks take on the Fayetteville Swamp Dogs! Celebrate the birth of the nation with fireforks, hotdogs and baseball. Gates at 6:00 pm Monday, July 2nd at Legion Stadium
City of Wilmington Fourth of July Celebration: Enjoy a spectacular fireworks display, great food, live music and more alongside the Cape Fear River in downtown Wilmington at Riverfront Park, Wednesday, July 4 from 6 to 10 pm