Mac OS / iOS Takeaways from the 2018 Apple WWDC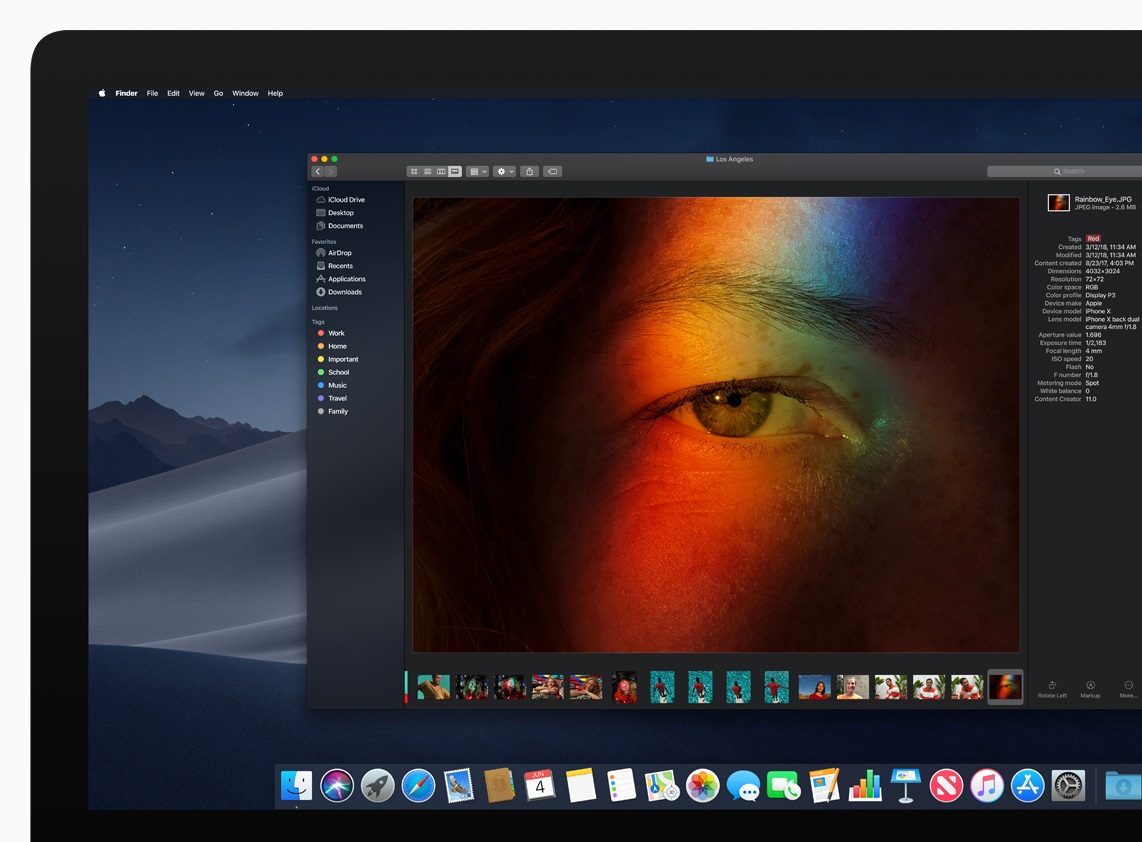 Apple's annual event rarely disappoints. 2018 is no exception!
Mac OS Mojavi
Apple's operating system gets a few tweaks for productivity and looks.
Desktop Stacks - Decluttering! For the stuff on your desktop. You'll be able to group folders and files into expandable stacks
Dark Mode - Mac OS's UI will transition to dark colors / light text so that it's easier on the eyes when you're using your computer at night
Finder Updates - WWDC featured Gallery View Finder w/ full Exif/Metadata for Images, Integrated Markup
One OS to Rule Them All
There's been a lot of speculation over the years that Apple might unify it's operating systems cross-platform. Is this happening? NO! They've dispelled the rumor yet again! With a diverse hardware lineup it's not hard to see why (how useful is Augmented Reality to your watch really?).
That said, you CAN expect to see some iOS Applications coming to the desktop. The first of these will show up later this year and will include updated Apple iOS apps; Stocks, News, Home (for smart-home device integration) and Voice Memos. The real trick here for Apps that fit the bill will be in how Apple permits porting or providing alternate mobile UI interactions to the desktop.
Other Takeaways:
Optimizations for older iPhones and iPads - Apple is touting 40%-70% faster app loading and interactions in iOS12 for users of older phones and tablets. Apple must have learned its lesson after the bad press it experienced over issues with older hardware and iOS 11.
Augmented Reality - A new 3D file format (USDZ) plus support for multi-user applications (particularly for gaming) in AR Kit are big leaps for Apple in Virtual Reality… Apple highlighted its demo apps and Fender's website as real-world examples of the new AR Kit functionality.
Measure App - Apple's leveraged it's AR Kit functionality to allow for real-time measurements via the Camera. Which is seriously handy for real-world DIY-ers (and in testing is said to be surprisingly accurate)
Memojis - Customizable animojis (animated emoji) are coming to iOS. In addition the Snapchat-esque animated new avatars will include tongue interaction and be available in Facetime (which is getting group-chat support as well)
Siri - An If-This-Then-That like Shortcuts App brings internet of things and smart device integration to pre-customized Siri voice commands. Tell Siri you're headed home and a bundled command can turn up the thermostat and send notifications in one go
Apple CarPlay - Look for 3rd party Navigation Apps like Google Maps & Waze to be made available in navigation systems that support Apple's iOS integration