Templates vs. Custom Built Websites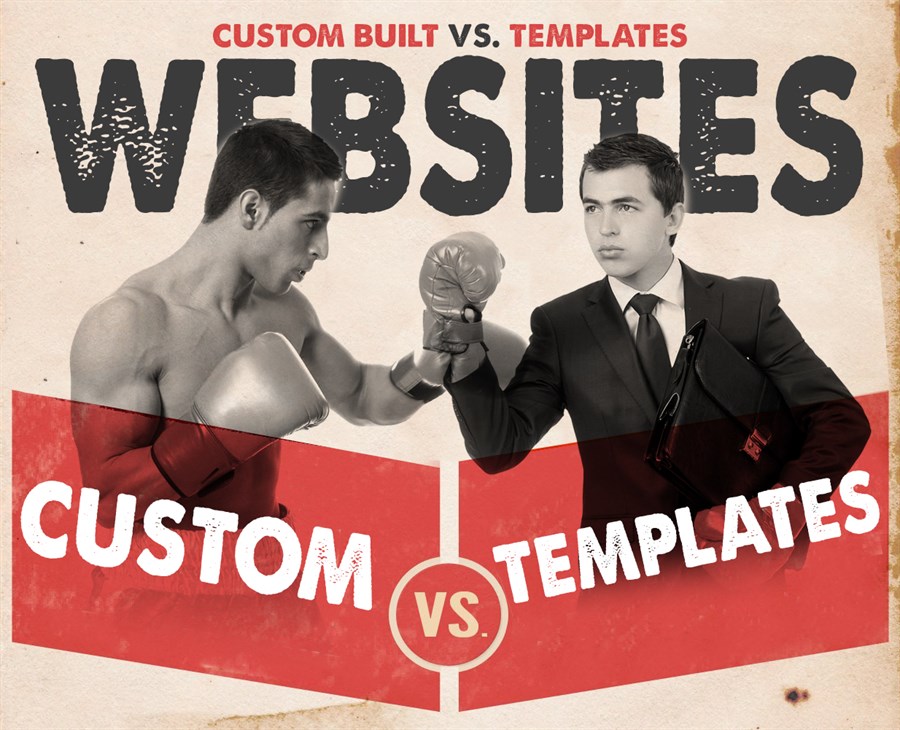 Which One Is Right For Your Business?
Building a website for your business can be a great way to take your company to the next level. Unfortunately, most people don't know where to start and a rush in judgment can lead to a costly mistake. With the new tools available to us today, it's easier than ever to create a website and get your business online. But is a DIY website the right choice for your business? Will it look good, work properly, and present your business in a way that customers can relate? And most important, will your website be something you're proud of? Let's take a look at some pros and cons of Template and Custom Websites.
Pros and Cons of Custom Built Websites:
Pros:
You'll stand out from your competition.
When you build a custom website, you get to work with a design team that will create an authentic look and feel that is unique to your brand. Fly by night competitors will not have the option to copy your site's style by purchasing the same theme.

You can control the functionality of your website.
If you can dream it, we can build it. With a custom website, there's no limit to what you can do with it. You can integrate Book Keeping and Payroll Software or create tools that help you track monthly orders. You can create custom calendars that allow your clients to book an appointment from their phone. All of these custom software solutions can save you time and money.
Future updates are easier to manage.
At some point, you'll need to make changes to your website. With a custom website, you won't be restricted by your CMS or have to wait for the theme developer to update the code. All of the database files are accessible and your support team can go to work right away.
Cons:
Custom websites take time.
Anything worth doing is worth doing well. When building a custom website, your designers and developers will need to identify what matters most for your business. Creating a visual representation of your brand that your clients identify with takes a little hard work and creativity.
It's an investment.
Custom websites certainly cost more than a free site from Wix, but in return, you are getting a whole lot more. When you stop to consider that you're hiring a team of designers, developers, project managers, and marketers to build the best website they can, you start to see the value in your investment.
Pros and Cons of Templates:
Cons:
Functionality is limited.
Template sites are great for small informational, hobby sites, but if you need to utilize a custom software solution for your business, you might be out of luck. Companies like WIX and Square Space restrict users from being able to make changes that affect functionality.
Everyone else looks like you.
Since the whole world can purchase the same website, users will have a hard time seeing the difference between you and your competitors. Since everything looks the same on the surface, users will make a decision based on price, not on value or experience.

No options to make changes or upgrades.
With most template designs, what you see is what you get. There isn't much flexibility to make changes in the layout, so if your vision does not line up with the premade theme, you may be in for a headache.
Pros:
It's cheap.
Templates are very affordable, so for just a few bucks a month you can build your own website.
It's easy to set up (well kind of)
Templates can be easy to set up and integrate into a content management system if you have a little experience with this.
Some modern template sites utilize drag and drop tools that make small basic changes easier.
Of course, if you have never tried to set up a website before, you'll still need to do some research and educate yourself on how to do basic tasks like setting up your DNS. Many of our clients come to us with a half-built WordPress site ready to throw in the towel. Make sure you know what you're getting into before you start.
Here at BlueTone we specialize in custom websites, as we believe in making sound investments for the future. We also offer hosting, marketing and support for any website. Good luck with your next project!