Hurley Write, Inc. reloaded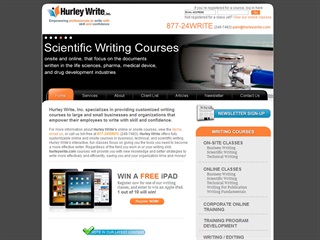 True glory consists in doing what deserves to be written; in writing what deserves to be read.

-Pliny the Elder.
I've appreciated this site since I started copy-writing here at BTM. The topic of good writing and especially her newsletter articles have spoken to me on an aesthetic level and Pam's site, hurleywrite.com is a business person's solution to the bad writing dilemma. Recent topics that I've read with interest are pompous diction and dying metaphors.
This site has been renovated and facelifted recently so I thought it deserved a revisit. As I moused around on the homepage, the navigation bar buttons reacted as I hovered over them. I like this tactile enhancement to the navigation buttons. Also, iPads are currently being given away, (woot woot!) The appeal of this text-rich website is enhanced by setting certain topical quotes onto pastel rectangles. Another great bit of dynamism is the 6 changing images of closeup photos and headlines against a dark backdrop on the top third of the header for the homepage.
Check out this site if you're at all interested in producing better manuals, correspondence, presentations, bid proposals, reports, charts, etc. in your business through better writing. If you just want to read some of her articles just click one of the links in this blog. Hurley Write, Inc. also has a presence on facebook.