Murray Law NC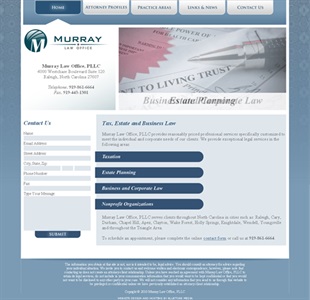 Murray Law Office's new site is an exercise in fine-tuning information and making it accessible. After all, there is a reason people need legal expertise, the legal system is not always known for its ease of use.
Murray Law NC
has all its contact info front and center, to get you in touch with their office toute de suite. In addition, you'll find
links and local news
, to keep you informed and make it easier for to you get straight to the source with what's happening in North Carolina Law.
Blue Tone Media's approach with this site was to make Murray Law NC approachable while maintaining professionalism. A bright soothing color scheme, a bold and accessible interface, and great content make this site a good user experience. Michael Murray is well presented and there is no doubt you're in good hands; with qualified business, tax, and estate planning expertise this close to home.