Port City Event Planners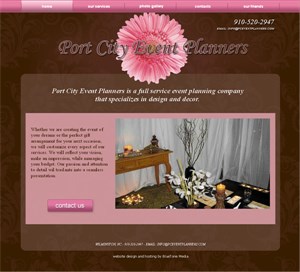 Port City Event Planners are in the business of creating memorable events; Weddings, Birthday Parties, Weddings, Grand Openings, Corporate Events, Holiday Festivities, maybe even that odd-ball shindig you've been planning that you're certain has never been done before (a Gidget Marathon could be really fun, right?). For those that are budget-conscious, PC Events won't break the bank, and their attention to detail will keep you stress-free. Who says you cant enjoy a fiesta you actually helped plan?

Blue Tone Media set their collective eyes on making a site that was both bold and beautiful, and reminiscent of Neapolitan ice-cream... The overall tone is inviting and timeless, and puts you in touch with all the information you need to get to planning something unforgettable. And with Port City Planners attending to all the nit-picky stuff, you'll have all the time you need to figure out where to seat strange Uncle Ronny...