All About Country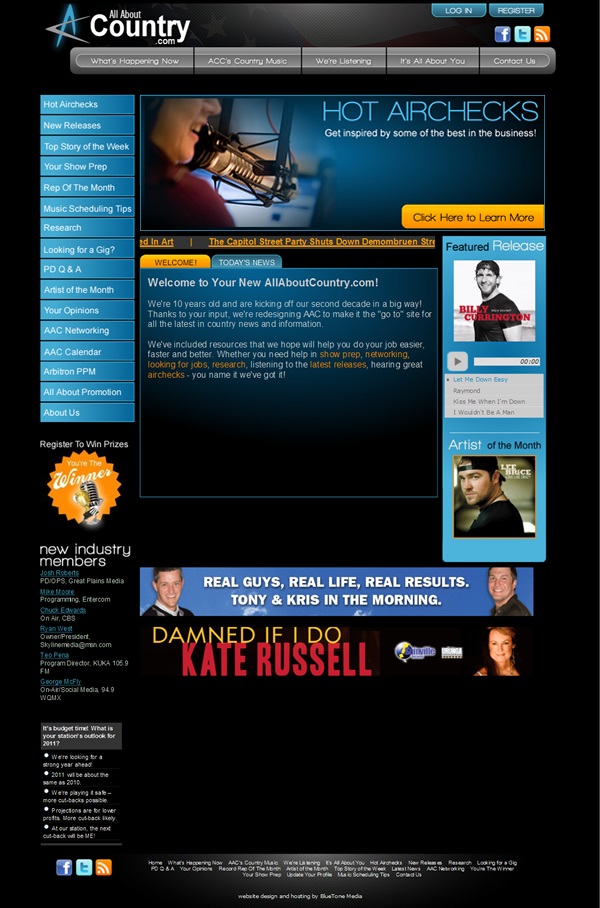 I wanted to be the first woman to burn her bra, but it would have taken the fire department four days to put it out.
- Dolly Parton
It's that kind of sauciness that makes Country Music legends. A down-to-earth attitude and brash confidence that is real and tangible. With that in mind, Bluetone Media looked to make the re-designed All About Country website THE place-to-be for country music insiders, radio personalities, musicians and fans alike.
Pulling off a dark palette like this one is no mean feat, copy can get lost and imagery can either fade away or get lost in a dark. This Bluetone Media crafted site offers a whole lot of pop, with major page elements bathed in a vivid stage-glow, all while retaining readability and ease of navigation.There is always the danger of clutter, so information needs to be segmented and given room to retain impact, something a dark background lends itself to pretty well. President of all about country Kim Hennes , Sr. Account Executive Tori Jones , and former KUBE-Seattle Radio personality John Hendricks (Managing Editor) have been running All About Country for about 10 years and they knew that their website was due for a refresh, and were very excited with the results!