CapeFearNative.com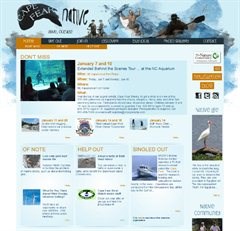 CapeFearNative.com is a new community resource for people who are interested in discovering the coastal Carolina's and taking part in fun and important local events. Their philosophy is that you don't have to be born here to have the native attitude.. An attitude that is fully reflected in the website, which is warm and inviting.
The creative aspects of building this site made it a fun challenge... There is a ton of information to showcase so we needed to maintain order but let the site be organic at the same time (and not lose anything in the process).
There's always something happening in the Cape Fear Area and this would be the place to go to find out about it.. Whether your interests are in local conservation, volunteer efforts or more relaxed happenings, you are sure to find something to be a part of at CapeFearNative.com!