Cape Fear Capital Investments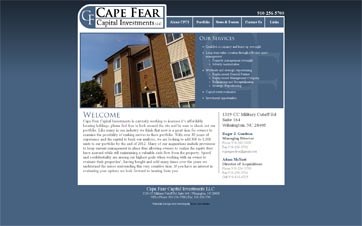 When it comes to the modern housing market...
Good timing and a proven track record of capable decision-making is essential, and Cape Fear Capital Investments LLC brings both of these to the table in spades. Founder Roger Gendron, currently maintaining a portfolio of 10,000+ units, personally brings thirty years of wisdom and experience in the multi-family marketplace to CFCI.


By making property transactions attractive to both buyers and sellers, Cape Fear CI makes the affordable housing market a lucrative, beneficial pursuit. Cape Fear CI boasts an impressive portfolio spanning multiple states throughout the eastern United States and plans to add an additional 300 - 1,000 units to this list by 2012. Check out their website here today!