The Murchison Building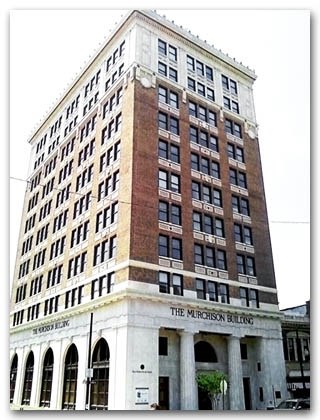 If you've ever visited our office,
you've been privvy to our beautiful view of the Cape Fear River and historic downtown Wilmington from the ninth floor of the Murchison Building. Look in one direction and watch the river snake towards the sea; look in another and admire centuries worth of interesting and elegant architecture. As one of the United States' oldest cities, Wilmington is a unique location where you can enjoy modern diversions in a beautiful, historic setting. The Murchison Building is an integral part of Wilmington's classic look, and indeed it has a centennial birthday coming up soon! Originally built in 1913 as the Murchison National Bank, the Murchison building has been a center of both business and social activity in Wilmington since its construction. With ten beautiful stories, a classical revival design, a manually-operated elevator, and a diverse range of progressive businesses within, the Murchison Building is the perfect example of how Wilmington mixes old style with modern innovation.

What better place for BlueTone Media than somewhere with classic style and fresh ideas? From municipalities to hunting sites to day spas, there's always a way for BlueTone to take your organization and make it look even better using a combination of clean aesthetics and cutting-edge programming. Check out our portfolio to see some of our latest slick work.