Got Tint Inc.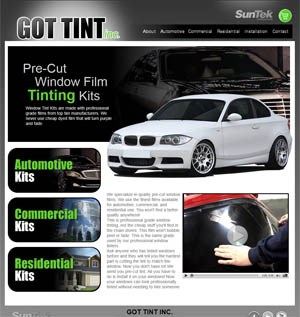 Tinting your windows not only looks cool,
It's also a smart decision. Tinted windows help reduce the amount of heat absorbed and retained by the inside of your car or home, which helps protect fabrics, wood, plastic, trim, wallpaper, and many other types of items from fading, peeling, and/or weakening over time. It can reduce the amount of glare, helping a driver operate their vehicle in bright conditions and allowing people within buildings to view screens and light-sensitive material at all times. Much like sunglasses, window tinting also reduces the amount of UV exposure, ensuring that even on a long drive or nap in the sunshine there's no chance of eye damage or sunburn. Tinted windows reduces the exterior visibility of a building or car's contents, which can help prevent you from being targeted for a robbery.

Unfortunately, getting your windows tinted is also generally troublesome. It seems like there's a caveat for each scenario; you can either hire a professional tinting service and have excellent work done for a large price, or get a home-tinting kit and end up with an inexpensive and mediocre result. Luckily, Got Tint Inc. gives you a third option, one which yields high quality work at a low price.
Got Tint Inc. uses only professional-grade tint films, specially cut and made to order for any tinting job. Be it a commercial, residential, or automotive job, Got Tint has you covered and protected. Their easy-to-use website walks you through the selection and ordering process, allowing you to easily and effectively order the precise products necessary for a beautiful job. By allowing you to easily accomplish professional-grade tinting yourself without the labor costs of a professional company, Got Tint makes it simpler and more accessible than ever to tint your car, home, or business. Check out their website and see what Got Tint Incorporated can do for you.