Grace The Americas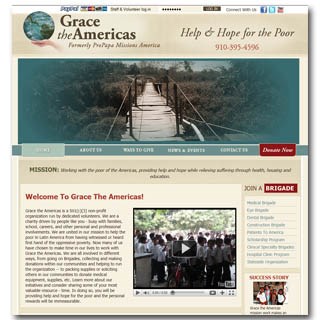 For the impoverished of South America,
life can be unrelentingly cruel. Concerns of quantity and quality often pervade everyday life, applying even to bare necessities such as food, water, and medical supplies. With a lack of access to sufficient resources with which to succeed, poverty begets poverty and deprives entire populations not only of a pleasant lifestyle but also the possibility of a pleasant lifestyle being attained for its future generations. Grace The Americas is an organization that seeks to fight and eliminate the circumstances created by the cycle of poverty which haunts much of South America.
Working mainly in Honduras, South America's poorest nation, Grace The Americas is a faith-based program which delivers access to adequate housing, healthcare, and education through the concerted efforts of their Brigades, categorical sub-campaigns for GTA which focus on particular areas and implement particular types of care. Because of the compartmentalized nature of the Brigades, donors can contribute money for particular causes and ensure that their funding goes towards those issues which impassion them most. This non-profit organization aims to provide as much care and relief as possible to those who need it most, working to break the cycles which keep the poorest of the poor from having a fair chance to succeed.
BlueTone Media is proud to have worked on Grace The Americas' website. Check out their website here today, admire our handiwork, and maybe even chip in a few dollars if you can afford it.