Rancho Tres Banderas
This is the first of a new series of blogs BlueTone is going to start having which will feature a site we recently finished. We love building websites and want to start sharing our freshest work with everybody. We hope you enjoy...
Rancho Tres Banderas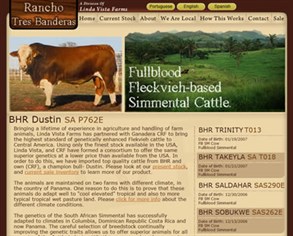 Rancho Tres Banderas is a Panama-based company that strives to continue to improve the genetics generation after generation through very careful selection, continual capital investment, adherence to quality standards and proven methods of improving breed stock. They are suppliers of cattle simmental, and have engineered some of the finest products in their area.
What BlueTone Media did for them was build them a site that showcases their product and provides a lot of information to their potential and current customers. Having the site use different languages was also very important to them, so using a translation tool, we put the three different options (Portuguese, English, and Spanish) at the top of the page. We think there are nice little details throughout the site, from the rounded right bottom corners of several of the boxes, to the contact form and color choices.
Take a look to learn more about Rancho Tres Banderas .