Jed Whitley Photography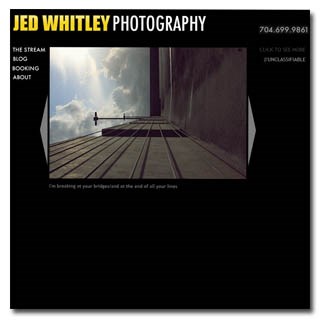 A picture may be worth a thousand words,
but Jed Whitley's photography seems to find a way to reduce you down to one: "Wow". The Wilmington, NC artist is on the rise in the community as a photographer of choice for weddings, events, concerts, engagements, and anything else that needs to have its perfect moments captured on film. With camera in hand and Nikes on foot, Jed Whitley adventures through the community and captures nearly everything he can on film. Persistence and creative exploration strongly pervade his portfolio, which ranges from highly composed wedding shots to casual but well-timed pictures of dogs, babies, hula hoops, and anything else he comes across in his wanders.
Creating photography websites can be difficult...making an attractive layout is absolutely vital to framing the works within appropriately, but anything too busy or complex can take attention away from the intended subject, the photographs themselves. BlueTone Media and Jed Whitely have worked together to create a site which is stark but engaging, simple but feature-rich, and high-contrast without being harsh. We could go on but it's better if we let Jed's photography speak for itself.