Smart Start of Brunswick County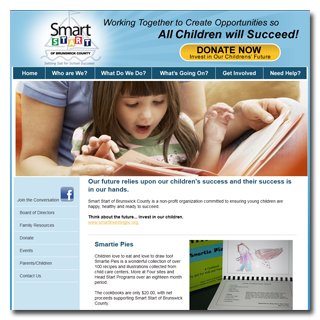 Providing life-changing educational and health-related services in the face of drastic, nationwide budgets cuts is certainly no simple task, particularly in one of the nation's lowest-ranking states for education. Yet, despite having the cards stacked against them, Smart Start Brunswick continues to succeed and expand, thanks largely to its organizational integrity and passionate commitment to the betterment of today's youth.
From childcare resources and referrals to hands-on garden activities to family support services, Smart Start does everything in its power to provide opportunities for children from all backgrounds to participate in classes, groups, clubs, teams, and events which provide positive benefits for a child's mental and physical health. By giving all a chance to develop healthy practices and a thirst for education, Smart Start of Brunswick County grants the true gift of empowerment and knowledge to its subjects, something which ultimately benefits the entire community. Education is absolutely vital for healthy mental development and the acquisition of necessary life skills to not just succeed, but thrive. Smart Start of Brunswick County holds the success and flourishment of its participating children and families as its highest and truest goal.
BlueTone Media is a company built on learning and development, and with that in mind we were excited to create Smart Start of Brunswick County's new site. There's a host of attractive, exciting features contained within...check out their brand-new site today and explore the opportunities which Smart Start provides for the population of Brunswick County.