The 2011 Bobby Boyd Invitational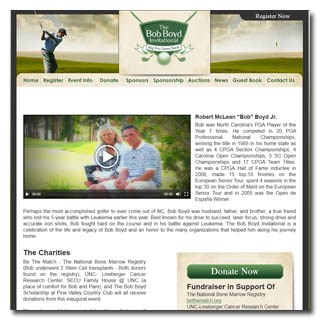 It's impressive enough to be North Carolina's best golfer in history,
But not impressive enough for Bob Boyd...he's contributing positively to the world even after passing from this life. Bob Boyd won 7 PGA Player of the Year Awards, won the 1988 PGA Professional National Championship, and spent his entire career racking up recognition and accolades. Even after being diagnosed with leukemia in 2006 Bob continued to golf, competing in another National Championship soon after receiving a second round of intensive treatment and a bone marrow transplant. Boyd finally left this world earlier this year, and in his honor his wife Pam and son Robert Boyd Jr. have put together something Bob would have enjoyed, a charity fundraiser.
The 2011 Bob Boyd Invitational is a fundraising golf tournaments, the proceeds of which will go to The National Bone Marrow Registry, the UNC-Lineberger Cancer Research Center, the SECU Family House at UNC, and the Bob Boyd Scholarship at Pine Valley Country Club in Wilmington, NC. A two-day event which features cookouts, remembrance get-togethers, and a silent auction in addition to the golf tournament, the inaugural Bob Boyd Invitational is host to many activities that provide fun for its supporters and hope for its charities.
BlueTone Media is proud to be a partner of the Bob Boyd Invitational, and invites you to check out their new website here.