Capital Home Builders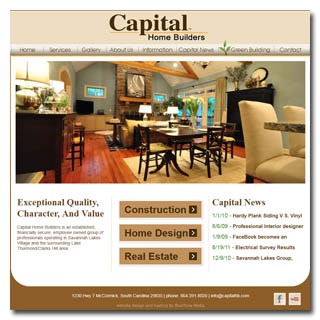 The Big Bad Wolf Hates These Guys.
Because when you earn yourself a reputation as a consistently high-quality builder of sturdy, attractive houses, you have to make a few enemies along the way. Sure, the Big Bad Wolf might be a mythical creature, but he still isn't someone you want to mess around with . Regardless, that's not stopping Capital Home Builders from making beautiful homes and taking no prisoners.
Jeffrey Dinos and Dwight Fleming founded Capital Home Builders in Atlanta, Georgia in 2004 before settling permanently in Savannah Lakes Village of McCormick County, South Carolina the next year. It didn't take long for Capital Home Builders to gain attention, and a business model based on exceptional attention to detail and high-tech methods earned them the respect of their community within a few years. Still a young company, but one with a fat portfolio of happy customers and exceptional houses, Capital Home Builders focuses primarily on building retirement homes, second homes, and exceptional lake houses for those looking to relax and enjoy life's scenery. Expertise in architectural design and 3D modeling allows Capital Home Builders to accurately create a three-dimensional computer model of what your future home will look like, allowing clients to be more specific with and informed about their investments than ever before.
Capital Home Builders also specializes in real estate and can buy and sell your home with great skill. A love of the home and a meticulous approach make Capital Home Builders stand out from the rest, and we're glad to have partnered up with them on their attractive new site . Scrolling press releases, elegant slideshows, clean layout and a peppering of real testimonials from satisfied customers makes their site easy, intuitive, and enjoyable to navigate. Find out for yourself!