Another Skate Shop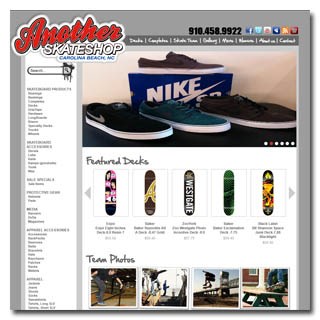 Don't let the name fool you.
This isn't just another skate shop...this is Another Skate Shop. The name is slightly confusing, and as the only 100% skate shop in the Wilmington area, it's not exactly accurate either. Regardless, it's mystifying nomenclature doesn't seem to be holding Another Skate Shop down in the least.
Another Skate Shop, located in Carolina Beach, has an impressively sized inventory of skateboard and skating-related items, from complete boards to the smallest bits. They also carry peripheries such as shirts and backpacks, so you never have to worry about skating naked and/or without your complete Harry Potter series on hand ever again. The site also features some pretty radical live skate videos by the Another Skate Shop team, a dedicated crew of skaters which helps Another Skate Shop transcend simple boutique status, transforming it into both a business and social hub for like-minded skaters.
Another Skateshop's new site features online e-commerce, video galleries, slideshows, and more. To see all of their awesome goods, and to check out our latest work, check out their site here.