Hills Supermarket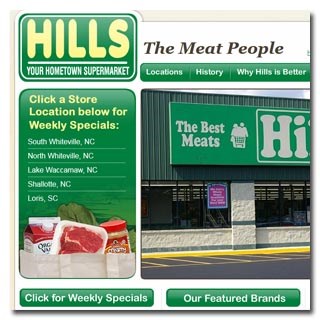 The Meat People?
Huh. Let's be honest for a second. When I hear "The Meat People", I think of a bad movie from the fifties - I can hear canned horror screams, and I imagine a bacon-wrapped C-list actor contrivedly shuffling towards would-be starlets, frozen in place with what could pass as "fear". Cheesy violin music would be everywhere, and I can almost guarantee you The Meat People would communicate with each other through a series of grunts and gestures, or by groaning "Meaaaaaat!" as they blunder towards their victims. But hey, at least the taglines would probably be amazing:
The Meat People: coming to a dollar theater near you.
The Meat People: Your Rump is Roast.
This summer, beat the heat. Meet The Meat……………………..People.
This is the church, and this is the steeple. Open it up, and BEWARE OF MEAT PEOPLE.
And while the idea of a bad actor draped in flank steaks sounds worth watching at least once, I'm happy to report that The Meat People never has been a movie, and hopefully never will be.
The Meat People, in fact, are the good people of Hills Supermarket, a local chain of stores which provides a fantastic variety of goods with a local personality unlike regular supermarkets. As can be gleaned from their motto, Hill's Supermarket places particular pride in their butcher expertise, and rightfully so. Fresh, local meats and a variety of options keep even the pickiest customers happy, and a full suite of Our Family brand products provides household necessities on a family budget.
So please, do NOT beware The Meat People, unless you're afraid of pleasant shopping experiences and saving money. Check out their new site here.