The Seasoned Gourmet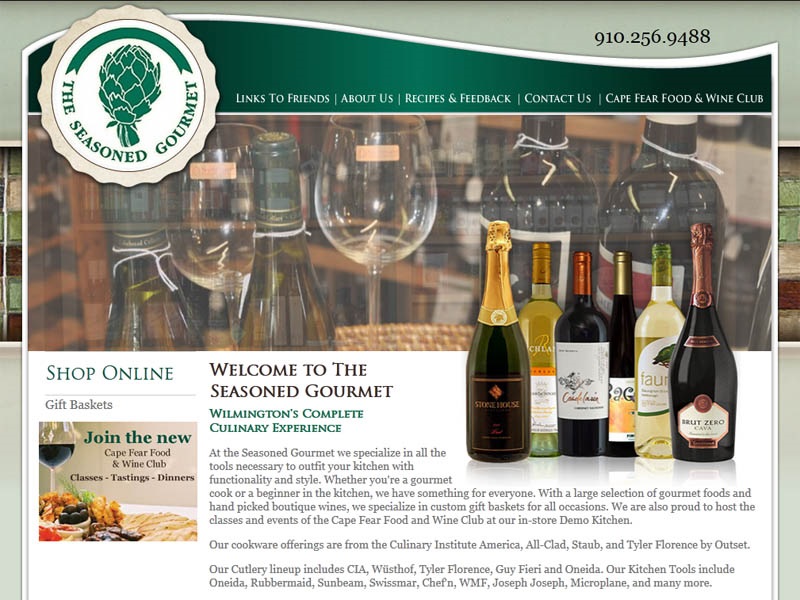 I Really Hope You Mean "Experienced" When You Say Seasoned.
Otherwise I think these guys might be cannibals, using their store as a front to lure unsuspecting victims to their doom. I mean, it makes sense -- gourmet-type people are likely to be delicious, if you actually are what you eat. Just think of them as walking, talking foie gras. Throw in some sea salt, a little balsamic vinegar, and a pinch of saffron? Bam! The perfectly seasoned gourmet.
And The Seasoned Gourmet would certainly be a good way to trick and capture those with fine taste in food, wine, and food culture. They boast a healthy mix of local gourmet products and international specialties which you'll have trouble finding anywhere else. Their expert staff can provide friendly recommendations and instructions on any culinary question you may have...you have to build up someone's trust before you capture and eat them, after all. The Seasoned Gourmet is also host to The Cape Fear Food and Wine Club, which features wine tastings and lessons in all things culinary. With the Food and Wine Club and The Seasoned Gourmet, one can learn how to select ingredients, use kitchen equipment correctly, cook well, and more fully appreciate the epicurian delights of the world. Guest teachers and an ever-changing series of classes keep things interesting and fresh, much like The Seasoned Gourmet's product list.
Stop by sometime and check out their store; you won't be disappointed. You can also check out their new website here as well, which features a dynamic item gallery, automatically updating course schedules, and more. Honestly, with their awesome selection and staff, I would probably go in even if I knew they were a cannibal front. Just saying.