Marsilio's Kitchen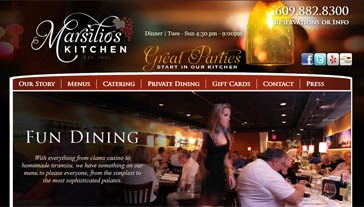 Don't read this if you're hungry.
Ok, I've warned you once, but I'll warn you again: reading anything about Marsilio's Kitchen while feeling peckish could easily end in disaster. I made that very mistake earlier today, and now we're minus one intern. Oh well. Now that the cops are gone and the mess has been dealt with, I'm a little more comfortable about going into detail about what happened, so I'll try to divulge.
The problem is simple: The new website for Marsilio's Kitchen looks delicious. I want to eat every page one by one, like a delicious ten-course meal of savory programming, marinated in fresh design practices and topped with a healthy portion of useability. I want to devour their new contact form in one giant bite, wash it down with some well-presented menus and then head over to their Facebook page for a gargantuan, social-media-minded desert. I can almost feel the "likes" trickling down into my belly.
And as if this extended food metaphor wasn't weird enough, Marsilio's Kitchen is determined to make their affordable, delicious modern Italian cuisine available for all. Between being able to book a table online and purchase a gift card, it seems almost unreasonable to not eat there. Us native Wilmingtonians will have to wait, as Marsilio's Kitchen is up in New Jersey, but looking at this slideshow of delicious options is making me think the drive wouldn't be so bad after all. Check out their website here to experience the delicious design firsthand. Just remember my warning, and please make sure there are no valuable items, pets, or small children nearby while browsing.