Cape Fear Roller Girls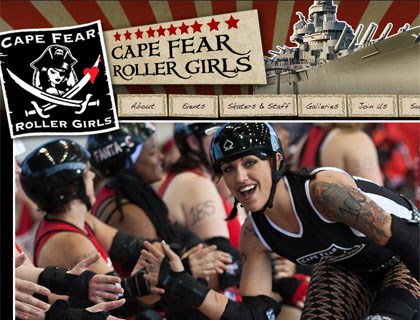 These ladies are just rolling in rowdy chic...
Any sport where mouth guards and fishnets are commonly worn in tandem is bound to be interesting. Add in high speeds, agility, and strategy. Now, put the whole thing on wheels and throw in a few gut-wrenching spills.
Yep, that's roller derby. With roots dating back to marathon roller skating competitions* in the 1880's, the sport has gone through a series of changes from theatrics and elbows-everywhere brawls to standardized rules and regulations with leagues in more than twenty countries around the world.
Wilmington's very own Cape Fear Roller Girls are veritable hometown heroes. Not only are they serious about smashing the competition, they also raise money and awareness for a whole slew of charities. Current awesomeness? Three team members are shaving their heads to fund raise for St. Baldrick's Foundation, a volunteer-based organization working to fight childhood cancer. What's not to like about these ladies?! Hardworking, talented, and compassionate. They're made of some seriously great stuff.
On their website, one can find access to calendars detailing times and locations of matches, or "bouts", as well as access online ticket purchasing. So go see 'em. I mean, I've already mentioned why. It's a sport with mouth guards, fishnets, and high speed spills on wheels, all executed like a well-oiled butt-kicking machine. Can't get enough in the stands? Volunteer! Try out! Sponsor the team! Heck, you can even referee! It all starts with the convenient click of a button. Doesn't it feel good?
So go support our local ladies and their awesome sport. Or join them! Whatever floats your boat scoots your skates at the new Cape Fear Roller Girls Website.
*"Marathon" refers here to deadly six-day contests, not simply the common 26 miles and 385 yards of a standard marathon. What's the winner's trophy? Death. Just like Pheidippides, the famous messenger from the Battle of Marathon. Great prize, right? Well, the public loved it. And, as always, wanted more. With much tweaking over the (many) years, the public continues to love the modern-day, fishnetted version. And how! It's claimed to be the fastest-growing sport in the world.