Central Florida Plastic Surgery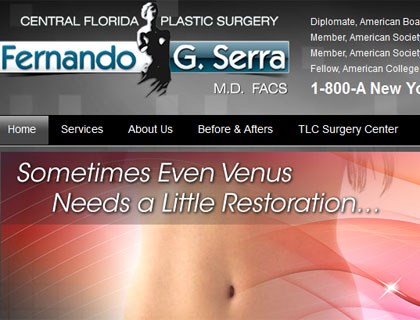 I always wanted someone to buy me a better me...
According to a fairly recent survey, more than 50% of Americans approve of cosmetic plastic surgery. The part I find really interesting is the similarity in numbers between individuals with an income of less than $25k and those above $75k both being over 51% approval. It seems like that in tough economic times, things like cosmetic surgery would drop in importance and approval, but I'm wrong! It does speak wonders for what improving one's appearance can do for self-confidence. Suppose you're having a hard time finding employment and you're convinced it's because your schnoz is too big? Jowls hanging too low? Neck flap too... flappy? Cut 'em all down and boost that confidence! BAM! You just landed a job. And three dates! Self—confidence can be improved a number of ways, but can your face? Make-up can only do so much…
Dr. Serra's Plastic Surgery practice in Central Florida can help boost your confidence and self-image with a lil' nip-and-tuck and inject-this-here and squeeze-that-there. According to statistics, at least half of your friends will approve, and one or more of your parents! It may even inspire a third of your more financially-deprived friends to even consider having a bit of bodily renovation done. So if you live in or near Central Florida, head over to Central Florida Plastic Surgery, located in The Villages and Clermont for some good ol' confidence restoration. More at Central Florida Plastic Surgery.