Wilmington Women's Soccer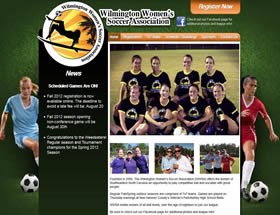 Alive-N-Kickin'
Interested in keeping your soccer skills sharp now that you are no longer on a school team? Or maybe you are interested in learning about the game for the first time? Well I have the perfect organization for you. Wilmington Women's Soccer Association!
WWSA was founded in 2006 and has been offering women the chance to play in a competitive league here in Wilmington, NC ever since. The teams are made up of women over the age of 18 with any level of skill. The league is currently comprised of 6 teams, who play 7v7 games. They play all games on Thursday nights at New Hanover County's, Veteran's Park and Ashley High School fields.
Wilmington Women's Soccer has 2 seasons that you can take part in, spring and fall. They offer online registration and the ability to specify which team you would like to be a part of. Not only will you have the chance to improve on your skills, but it is also a way to build friendships and spend some time with great people.
Registration for the fall season is taking place now. So, don't drop the ball. Head on over to their website today and sign up!