Rimguard Xtreme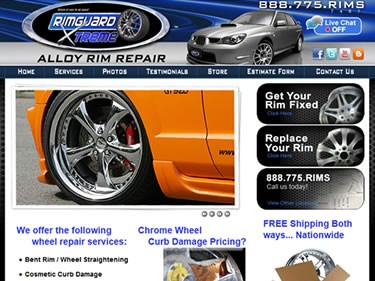 Rimguard Xtreme Offers State-of-the-Art Services for Damaged Rims & Tires
Anything can go wrong on the road. We can turn a corner and scrape our bend your rim. A car accident can damage our tires. Any number of events can damage our tires and rims. When we're jammed up, with no option but to get new tires and rims, what if we had a safety net?
Rimguard Xtreme
will come to the rescue and fix even the most damaged rims!
By offering an awesome series of services that set them apart from the competition, and with help from BlueTone Media's web design team, customers can text a photo of their damaged rim to the corporate office or even a field technician's smartphone! From there, Rimguard can walk the customer through the next step of getting their rim repaired.
Rimguard Xtreme
is at the cutting edge of customer service and efficiency, by offering digital invoicing. With this unique application, a field technician can produce a digital invoice on an iPad and have the customer sign it right on the spot, which the customer can receive via email or fax! Whether it's a cosmetic issue, curb damage, bent wheels, or rim straightening,
Rimguard Xtreme
has you covered!