Vets Pets Teats Your Furry, Four-Legged Family Members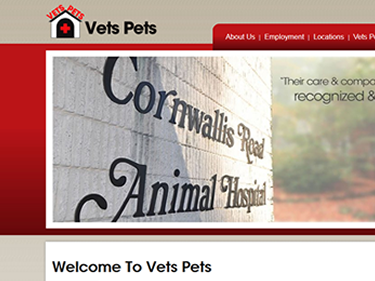 Vets Pets Provides North Carolina's Premier Veterinary Health Services
All of your family members deserve the best health care available...it doesn't matter if they have two legs or four!
Vets Pets
' philosophy is not a one-size-fits-all approach. All the
Vets Pets
locations have the best veterinarians, who are autonomous, with their own personalities. While every
Vets Pets
has its own unique flavor, you can rest easy knowing that the highest standards of care are shared at every location. If you're at the beach,
LaCroix Veterinary Hospital
is there. If you're in the Triangle you can get help from
Creature Comforts Inn
.
Vets Pets
was founded in 2007 by Dr. Frank Batten, DVM and Steve Thomas. The organization started with two veterinary hospitals founded by Dr. Batten and expanded to seven through hospital purchases. Vets Pets was created to address changing needs in the veterinary industry. Surveys show more veterinarians today are interested in focusing on medical excellence and less interested in managing and owning a business. This means that the needs of your pet is more is more important than the dollar, which is exactly how it should be, and Vets Pets understands this.
If your pet needs top level health care with compassion, integrity, and humility, you can find
locations
for your closest Vets Pets, give them a call at 252-237-1375, or visit their website at
www.thevetspets.com
.