You Won't Want To Leave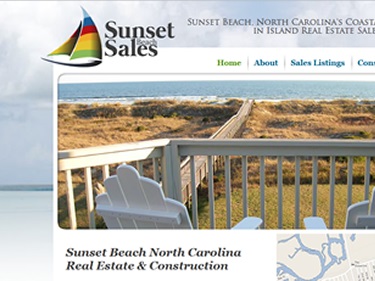 NC's Coastal Leader in Island Real Estate Sales & Construction
It's the feeling you get when you cross the historical one lane pontoon bridge on your way to the 2 1/2 mile island of Sunset Beach, NC. It's hard to describe but your worries and problems seem to vanish and a calming effect takes over. You don't have to think about it, it just happens. As you drive over to Sunset Beach, the salt marsh abounds. Beautiful and lush, with herons, egrets and white ibis all calling this home and adding to the visual splendor. Homes on the island are very well kept and appealing to the eye.
Ocean front homes are positioned well back from the ocean and offer a natural view as well as protection from the elements. You will find one of the widest beaches on the east coast with white fine grained sand and a gentle slope perfect for swimming.
Bike, walk or just be lazy. It's okay here. If you prefer to golf well your in the golf MECCA! Over 18 championship courses all within 10 miles are waiting. Shopping? Oh yes. Fantastic shopping! Not only in the immediate area but Myrtle Beach and Wilmington as well. Sunset Beach is perfectly positioned halfway between Myrtle Beach and Wilmington,only 30 to 40 miles away from either one!
Want to own a piece of paradise? Well, that's where Dave Nelson can help. Dave is an Island resident, full time Real Estate Broker, Century 21 Centurion Award Recipient, co-owner of a construction company called "Coastal Cottages", and owner of the beautiful Sunset Inn. He is happy to talk with you and show you how you may own any home "For Sale" on the Island, or the surrounding area. Customers always get the highest level of quality.
Sunset Beach's highest appreciation has helped make owning property on the Island a great investment. Just ask anyone that owns property here. They will be glad to tell you.
See for yourself and come visit. Be careful though, you may not want to leave. Check out
Dave Nelson
and Sunset Sales over at
http://www.sunsetbeachsales.com