NB Chamber Business Expo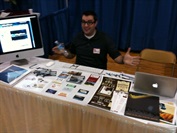 If your stuck inside today because of the weather feel free to come over to the North Brunswick High School we are in the business expo and have had a really good turnout already scheduled 2 appointments from it and handed out a ton of cards and its only half way over.
Brad is a Business Card Handing-Out Machine!!!!