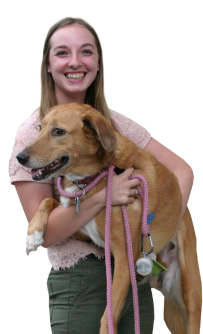 After what feels like an eternity, Sam is finally nearing the end of her college career. When she succeeds, she'll have earned a Bachelor of Arts in Criminology, so don't get any bright ideas about committing any crimes around Sam.

Before she found her home here, Sam was an Expert Sandwich Maker at Jersey Mike's. She also organized the catering and did all the marketing for our three local stores. What can we say? She's truly a jack of all trades.

Sam loves customer interaction, which is one of the reasons she's so great at being our Support Specialist. When she's not talking your ear off, Sam can most likely be found in her garden. She also enjoys reading sci-fi novels, crafting, and fattening up her coworkers with cupcakes. She has two doggos, Perrin and Luna, and occasionally brings Luna in to be our honorary office dog.