Digital Marketing for HVAC Businesses
Today's clients will spend hours online, doing research to find the best option for their heating & cooling needs. Most clients begin their research by going to Google or Bing and searching for local HVAC companies. The majority of these potential clients will form a strong opinion about a company based on the look and layout of the business's website. Making sure your company's website is visible on search engines is vital to an HVAC company's success. But the work does not stop there. While it is true that driving traffic to your website is important, making sure that you have a proper marketing funnel set up is even more important. We understand how to capture the maximum number of leads from your online campaigns, and we are happy to help.
The marketing team at BlueTone Media takes the time to sit down with you, not only to understand your goals but to also get a true understanding of your customer's needs. With our strong background in both online marketing (such as SEO, PPC, and social media) as well as offline marketing, we are confident we can customize a marketing plan that proves to be a worthwhile investment.
Search Engine Optimization
No other medium impacts a website's traffic more than search engines like Google and Bing. If you want to increase your bottom line, search engine optimization is the smart choice. At BlueTone Media, our SEO tactics always focus on results, measurable goals, and a countability. In a day and age where every web company seems to "know" SEO, we stand apart but spending the time to learn who your customer is and what their needs are.
Pay Per Click & Digital Advertising
Pay Per Click advertising and SEO go hand in hand. When managed properly, pay per click marketing can produce some of the highest ROI. We can strategically place your company in front of your customer at the exact time they are making the decision on your services or products. We get to know your company, your customers, and your competition. In doing so, we eliminate needless spending on irrelevant visitors and drive more qualified conversions and leads.
Social Media Marketing
Social Media Marketing is more than posting a cool picture on Facebook and hoping people engage. More and more people are using social media to connect with businesses. This is your opportunity to engage with them, to build trust and a relationship. We work to truly understand your customer and their needs, so we can give them solutions.
Direct Marketing
How important would it be to your business to be able to reach out to those customers who want to hear about your latest news and offers? Direct marketing allows us to do just that. With our content management system, we can help you build an email list, collecting information for those people who are interested in your business. From there we can help you craft the perfect newsletter or email, sharing your business's latest news or providing them information on your services or products.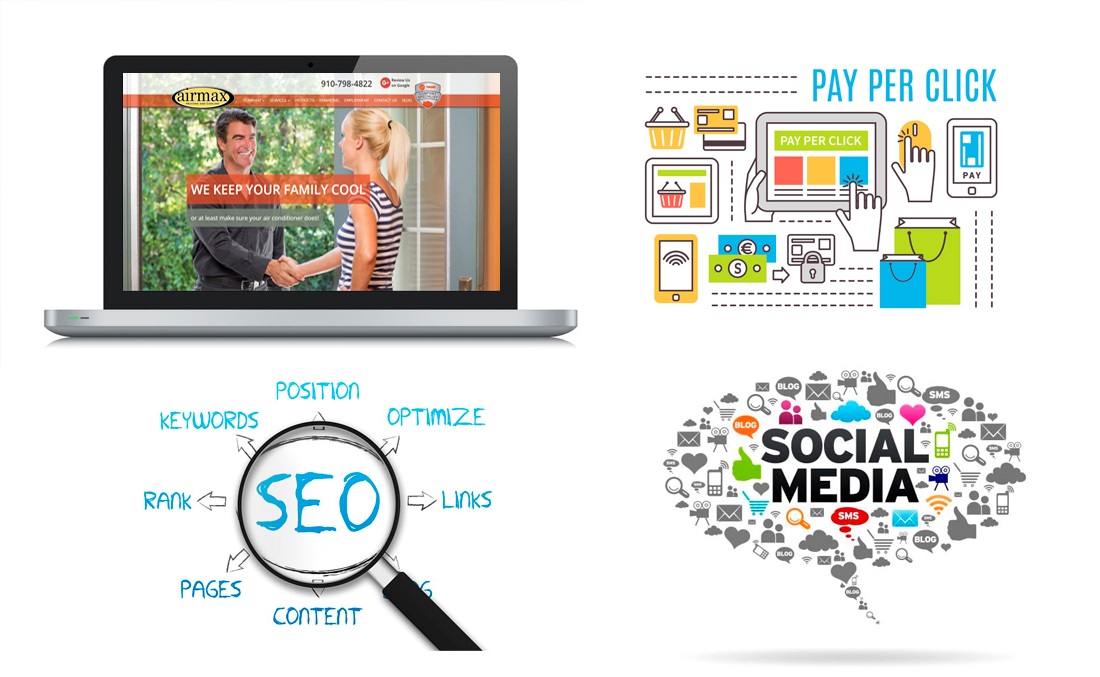 Search Engine Optimization
More and more people are using the internet each day - searching for exactly what your company offers. Having your business at the top of the search results means more leads, more sales, and more conversions. At BlueTone Media, we understand that a business can be built or broken online. Our team spends the time to truly understand how your business works. In doing so, we develop a clear picture of exactly what your business goals are. From there, we develop a unique online marketing strategy that drives results.
You will find many internet marketing companies out there who offer "out of the box" SEO services. If a marketing company isn't going to spend the time to understand your company's goals, is best to stay clear. In fact, nowadays, those "out of the box" techniques could get your website penalized by the search engines. Our internet marketing team has years of search engine optimization experience and we focus on making sure your website conforms to the multiple algorithm updates that occur each year. Our techniques are "white hat" and we follow the ever changing guidelines of the search engines.
Some of Our SEO Process
Website Analysis
Competitive Research & Analysis
Code Optimization
URL Optimization
Linkbuilding
Content Creation & Optimization
Site Structure Analysis
Google+ Authorship Optimization
Directory Submissions
Social Signals
Optimize Site Conversions
And much more...
Social Media Marketing for HVAC Companies
Timeline Cover Photos & More
Need a fancy Facebook page to match your new website's look and feel? We can help! We can get you started on the right track towards Facebook fandom with a great profile photo and matching timeline cover image. BlueTone Media can also update your pre-existing Facebook page or design cover photos for monthly promotions!
If Facebook isn't enough, we can integrate those designs into other social media channels such as Twitter, Instagram, Pinterest, YouTube, and Google+!
An attractive online presence can make all the difference in the world to your business.
Social Networking with BlueTone Media
BlueTone does more than build awesome, easy-to-use websites, way more! We want your website to reach every bit of your target audience, so we offer services like Custom Email Newsletters and e-blasts. Through our handy-dandy Content Management System, you have the ability to create multiple distribution lists, build custom newsletters with text and images and schedule them for delivery at a day/time of your choice.
And for those who are "Social Network" challenged, BlueTone will set-up and deploy social media campaigns for your business to reach a wider audience. Click the links below to for more info and example
Google AdWords, & Bing Ads for HVAC Contractors
When managed properly, Pay Per Click Advertising can produce some of the highest ROI (return on investment) on the internet. From keyword research and selection assistance, to campaign set-up and complete daily management, more visibility is the true method for your success. We help you identify objectives and goals and then customize the campaign to provide the best results. Our main concentration in this area is with Google AdWords, & Bing Ads. BlueTone Media a Google AdWords® Certified Company.
Keyword Research & Selection
Conversion Tracking
Landing Page Testing
Optimize High Performing Keywords
Avoid Wasted Clicks
Targeted Ad Copy