How to Help Your Local SEO with Google+ Local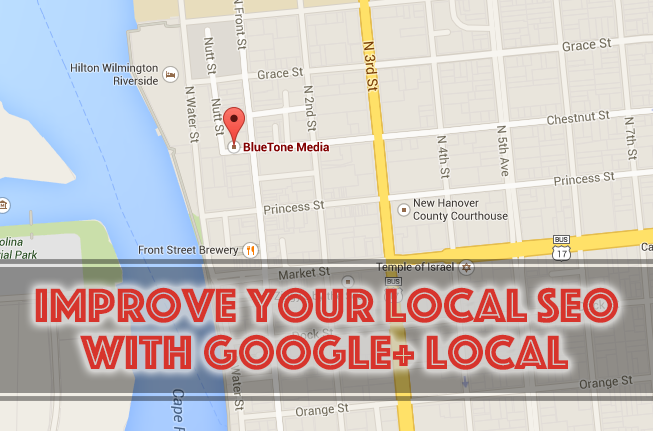 This may be the most often asked question we hear from our clients, "How do I show higher in Google?".
As the local business market becomes more and more competitive, this is a really important question to ask.
If you are looking for a quick, immediate solution pay-per-click advertising is a possibility, but along with that comes a cost. Today though, we are going to take a look at Google+ Local pages, a free tool offered within Google My Business. Building a Google+ page can connect you with your customers, whether they are looking on search, Google Maps, or mobile devices.
Why is Google+ Local Important?
We've all done it. We are on our phone or at a computer and we open up Google to perform a search for a local service (you may have even done a search checking to see where your company ranks). What you may have seen is a group of listings pushed to the top of the page. The listings are grouped in 7s, maybe 3s or somewhere in between. Where do these come from? We knew you were going to ask that! Well... Google+!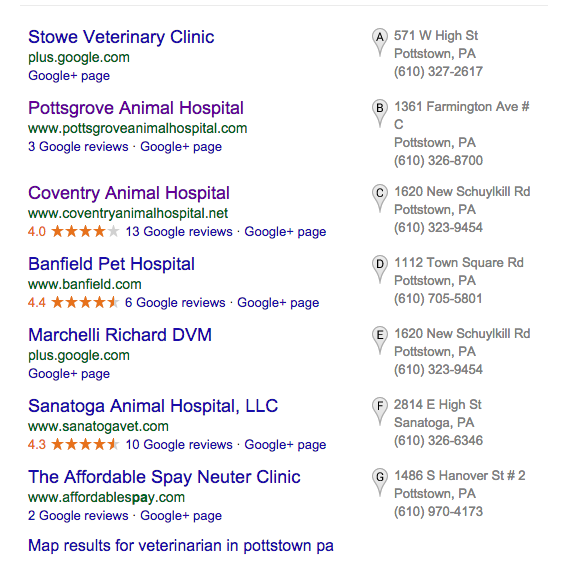 Google is showing these listings, also called map pack listings, more and more in search results - especially when performing a local search. It is becoming increasingly more important for your business to be shown there - for the simple fact that these map packs are pushing the organic listings further down the page. Also, these map pack listings are shown throughout search results seen on mobile devices.
If you want your business to be shown in these listings (and you should) or if your listing is there and you want it to rank higher, there are a few things you need to do.
How to Get Started with a Google+ page
First, you need to create your Google+ Local page, or claim your business listing if it is already built.
You will need a Google account. Once you have created an account, you can go to the Google My Business tool here - https://www.google.com/business/
You will be asked to choose from 3 business types, Storefront, Service Area, or Brand. A Storefront would be a business with a physical location, while a Service Area may be a business like pizza delivery or taxi.
Next, you will be given the option to search for your business. After typing in your business name and finding the right business information you will be asked to authorize that you want to manage the page. To verify your business location, Google will send you a pin number to the business address. Once you verify using the pin number you will be able to make adjustments to your business information and customize your page.
Is just having a Google+ Local listing enough?
It isn't ever that easy, is it? Well, in most cases no.
There are a lot of factors that come into play when dictating if your listing is shown in the map pack and how to get it to show higher once there.
Helping Your Local SEO Rankings
First, we suggest that you completely fill out your Google+ page. That includes a profile image, a cover image, correct business information and company description. There is nothing worse than giving your client wrong contact information or have them land on a Google+ page that is bare or incomplete.
The very core of your business information is referred to as NAP, or name, address, and phone number (sometimes it is called NAP+W - name, address, phone number and website). Google will not only compare your Google+ page business information to that found on your website, but it will look on the web for other business listings your company has. Once you have your company information filled out, you will want to make sure it is accurate across all citations found on the web. Some things you want to check for are inconsistencies in company name, different spelling of street names, different phone numbers, different website links and/or lack of suite numbers if applicable.
Having these inconsistencies can cause Google to lose some trust in the data and impact your rankings. Use a free tool like Moz Local to check your listings in the major directories.
Also, you will want to take a look at the on-page quality of your website. Is your website properly optimized for local search? Is your NAP information complete on your website in places like your contact page and website footer? Is your website overly optmized - using keyword stuffing and other spammy tactics? Is the content on your website thin? Has your website suffered any known penalties from Google?
These are all questions you want to ask yourself. Making sure those issues are handled properly can play a big part of your Google+ listing being shown in the map pack.
Reviews on the Google+ page itself, as well as reviews on other directories will play an important role in map pack listings. The key here is to make sure the reviews are authentic and created naturally. Paying for reviews, faking reviews and even pushing customer to leave reviews are frowned upon.
The last variable we want to mention today is time. When was your website published? When was your Google+ page created? When were the other third party citations built? A business should not expect to start ranking immediately in the map pack if they are just getting started in this game. Time is a local search ranking factor!
While there are many factors to determine which listings are shown in a local search results page, above are some of the key factors to become aware of. If you are having any trouble navigating through any of these areas, the people at BlueTone Media are here to help!