Capeside Animal Hospital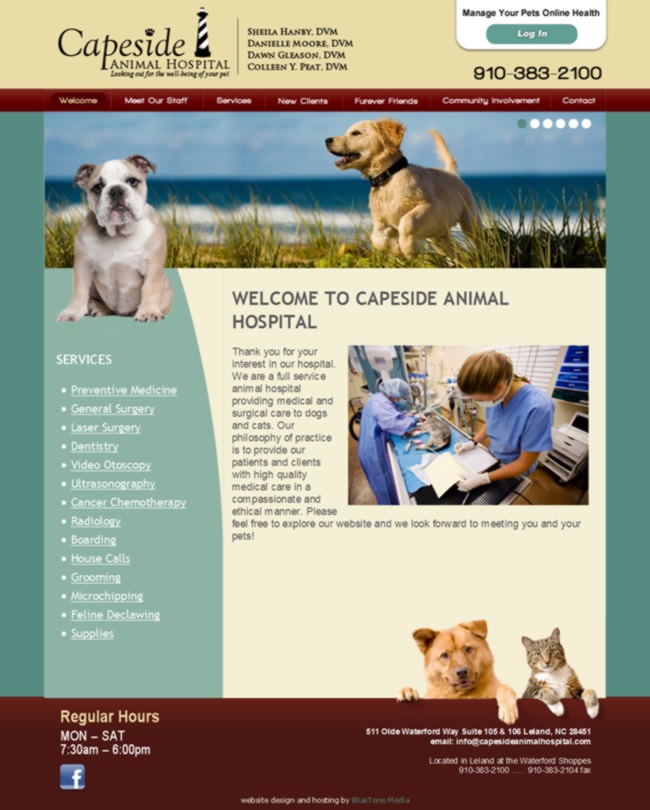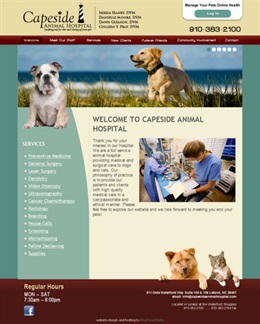 Capeside Animal Hospital is a full service animal hospital providing medical and surgical care to dogs and cats. Their philosophy of practice is to provide patients and clients with high quality medical care in a compassionate and ethical manner. And they pull out all the stops, regardless of what ails your precious companion, Capeside is bound to offer the necessary treatment and care.
The new look for CapesideAnimalHospital.com is intended to improve on usability. There is tons of information on offer and it would be easy to get lost in the pages were you to dig too deep on the old site. Bluetone condensed any segmented information (for instance, the many pages that made up the bios for their awesome staff) into distinct pages, and concocted an overall look and layout that makes navigation www.CapesideAnimalHospital.com much much easier.
Capeside Animal Hospital works daily with FOF (Friends of Felines) by spaying/neutering at least 1 feral cat (sometimes up to 3-4 cats). They also participate in spay/neuter clinics on several Sundays throughout the year, in which 20-30 cats are altered in one day. Pretty impressive stuff, in the words of Price is Right alumnus Bob Barker "Nothing gives me quite so much joy as when people tell me they've had their pets spayed or neutered."
True indeed.