Premier Auto & Tire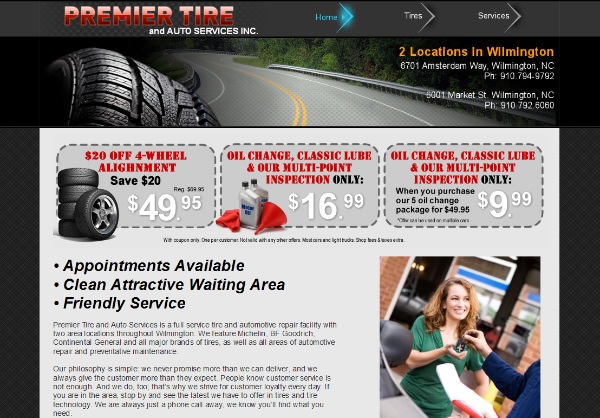 Premier Tire and Auto Services is a full service tire and automotive repair facility with two area locations throughout Wilmington. They feature all major brands of tires, as well as all areas of automotive repair and preventative maintenance.
With this in mind Bluetone created a straightforward site that gets straight to the point and looks good doing it. The product is front and center, looking its best, and making sure you know what kinds of great deals you can expect
Premier Tire's philosophy is simple: they never promise more than we can deliver, and always give the customer more than they expect (kind of like how we do things here at Bluetone). People know customer service is not enough and have come to expect expert service and fair treatment to (why wouldn't you right?). If you are in the area, stop by and see Premier Tire & Auto, or just look them up on the web at MyPremierTire.com . They are always just a phone call away!