James Sprunt Community College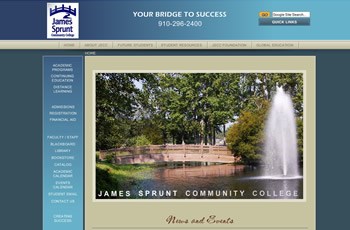 James Sprunt
is a comprehensive, open-door, community-centered college that responds to the needs and growth of Duplin County and surrounding areas by enabling a diverse population of individuals to attain their personal, academic and career goals; through collaborating with public schools, senior colleges, and other community colleges to provide secondary and post-secondary educational opportunities; through partnering with area businesses and industries in meeting their training and retraining needs; by enhancing the educational, economic, and cultural development of the service area; and by improving the quality of life in the community.
This is one of our more complex sites - over 150 pages - but the staff at James Sprunt used our
content management system
to build most of them themselves! They did an amazing job of learning our admin and teaching it to one another.
BlueTone was brought on to do a redesign of their old site. We also did some Flash work for the header and home page, based on JSCC's ideas.