RimGuard Xtreme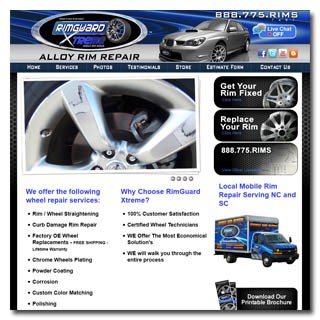 You no longer have to live in fear.
Well, not of curbs and fire hydrants at least...not when you have RimGuard Xtreme on your side. This North Carolina based company services the entire Coastal Carolina region, providing a much-desired set of services and products for pretty much anyone who drives a car.
A car's rims can fall victim to any number of daily driving hazards; scrapes from tight alleys or spaces, cracks from even glancing a curb, a loss of luster from weather and time can all befall your vehicle, sometimes without you even noticing. Before RimGuard came along, incurring any such damages meant the untimely disposal and costly replacement of your rims and hubcaps. RimGuard Xtreme specializes in refurbishing and repairing rims, meaning the unnecessary worry and expense of replacing rims is no longer an issue. With mobile service networks, lightning-quick quotes available, and dependable, consistent service, RimGuard Xtreme has been making waves Carolina communities and saving people thousands of dollars for several years running.
Their new site by BlueTone Media has quite a few interesting and advanced features. You can browse both their services and their extensive catalog of high-quality replacement rims, you can view videos and slideshows of their works and methods, and you can even text them a picture of your rim damage for an almost-instant quote! If you prefer to send your damage reports online, we've built a nice form which lets you upload pictures, describe the damage, and receivable a high-quality printable PDF of your report upon submission. Check out their new site here and make sure to check the before and after work...it's impressive.