Espetus Brazilian Steakhouse Billboard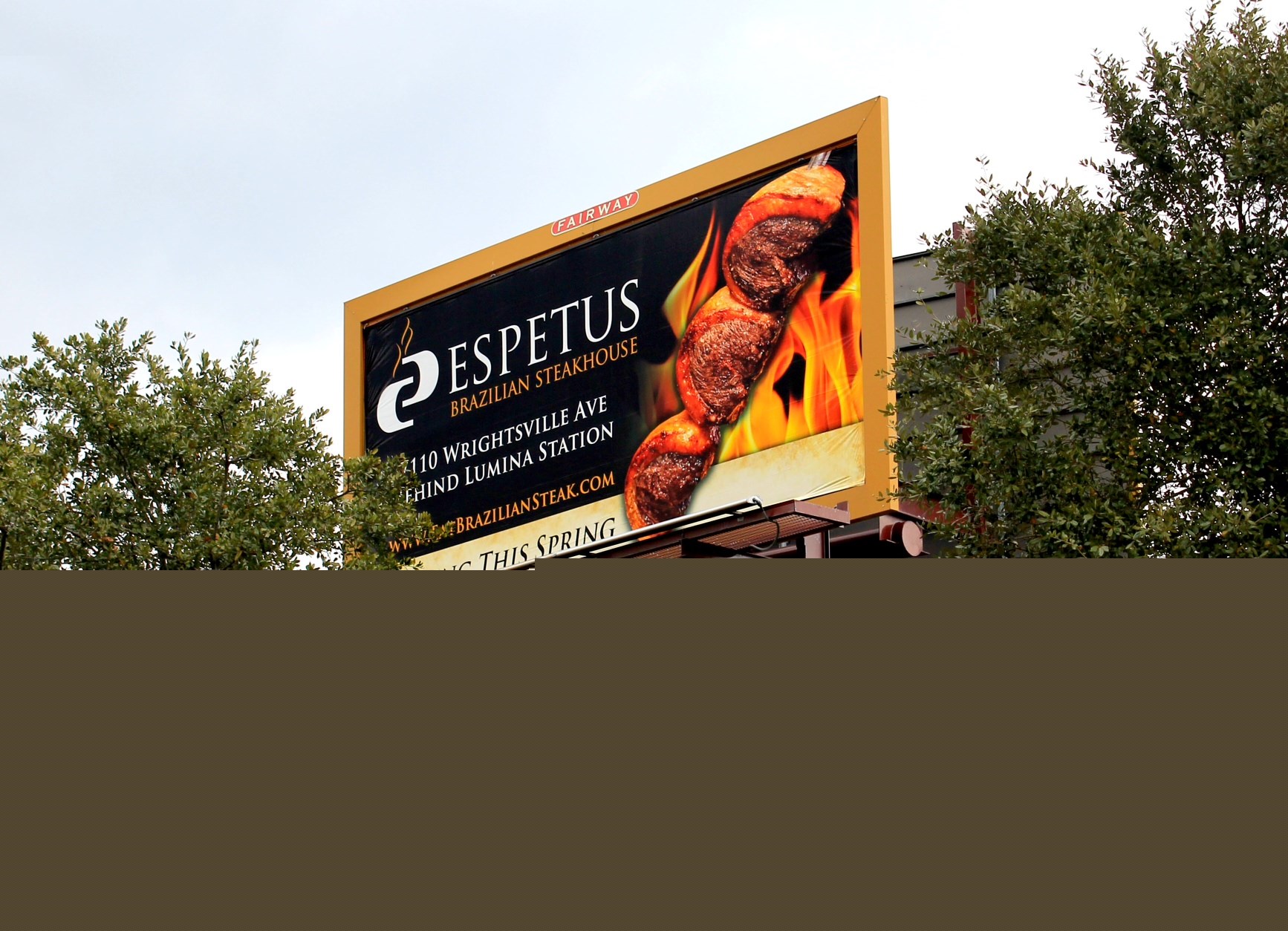 I've got a weird riddle for you: What's 10 feet by 22 feet and covered in hot sizzlin' meat? 
If you guessed "The new billboard for Espetus Brazilian Steakhouse! It's a delicious new restaurant which will be opening soon in Wilmington, NC", congratulations! You're a winner, and also an oddly specific guesser. If you guessed anything else, you're likely either a pervert or a very out-there kind of artist... and sometimes it's hard to make a distinction between the two.
The rumors you've heard are true; Espetus is coming, and we're quite excited about it. Have you ever been to a Brazilian steakhouse? It's a pretty awesome way to dine. The experience is akin to being completely buried in an avalanche, except the avalanche is meat. Short version: A Brazilian steakhouse is essentially a meatalanche. Fun fact: I just added "meatalanche" to my Chrome dictionary so that it wouldn't keep coming up as a typo. This is how the descent into madness begins. And a meatalanche is not a bad thing, unless you're vegetarian.
However, vegetarians need not fret! Unless you're the type of veggie which panics and flees when surrounded by meatlumps (added to dictionary), there's plenty here for you as well. Here's a tiny sampling of the ingredients available at the Espetus gourmet salad bar:
ARTICHOKE BOTTOMS
BABY SWISS CHEESE
SCHRUTE FARM BEETS
BLACK BEANS
BRAZILIAN VINAGRETE
BROCCLI WITH ALFREDO SAUCE
CUCUMBERS
FRESH TOMATOES
STUFFED TOMATOES
FRIED BACON
HEARTS OF PALM
JUMBO ASPARAGUS
JUMBO BLACK RIPE OLIVES
CAPS LOCK*
*not actually a salad ingredient
And that's just a sample - the salad bar is truly impressive and more than bountiful enough to satisfy the hungriest and pickiest vegetarians. Honestly, looking at the menu of this place hurts a little inside. Once you know that your lunch fare for the day (Ramen) could have been Espetus' delicious Picana Com Alho, followed with some Brazilian Flan or a "Chocolate Meltdown", it's hard to enjoy your noodles very much.
Oh yeah, the billboard - back to that. You can see this two-story-wide beaut alongside several major thoroughfares in Wilmington - Market St, Oleander, and S College Road, specifically. Advertising of this sort can be very effective for local businesses, especially when trying to kick-start an opening business, and indeed these billboards have already been a huge success, driving large volumes of traffic to their launch website and prompting over 100 interest forms to be filled in less than two weeks.
This is an excellent reminder of the power of advertising, and how worthwhile it is to consult with a professional design company when preparing to open a business. Because of our reputation as a high-quality full-service web design company in Wilmington, NC, it's slightly less known that we also create print, audio, and video advertising campaigns per our customers' requests. If it's media-based, it's nearly guaranteed that BlueTone Media can put it together, as is shown by the Espetus billboard. Check out http://www.espetusbraziliansteakhouse.com/ to preview the site and sign up for exclusive offers and information from Espetus.