Augusta State University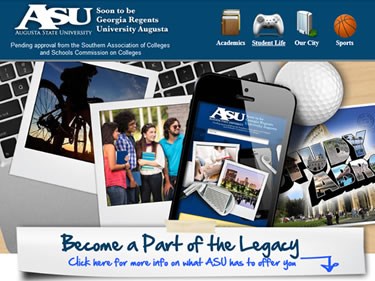 Become a part of the legacy at Augusta State University!
Located in Augusta, a city with a rich history of art and music,
ASU
has over 120 student organizations including Greek life, intramurals, abroad studies, global outreach, and honors college opportunities. The vibrant nightlife in downtown Augusta serves as the city's core energetic destination for dining and entertainment! With its beautiful views of the Savannah River, Augusta's Riverwalk is lined with many bars, shops and restaurants.
ASU
is College, the way it ought to be...
ASU
is committed to success. The university that is student focused with small class sizes, a low faculty-student ratio and varied student population. If you want to become a part of the legacy, get an education to last you forever, and have the experience of a lifetime, check out
Augusta State University
!