Beautiful Flowers By June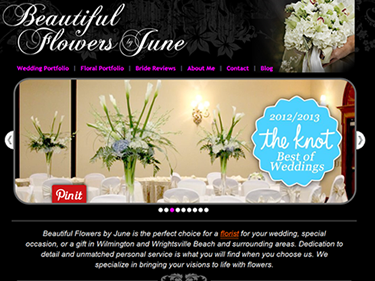 Beautiful Flowers by June is the perfect choice for a florist for your wedding, special occasion, or a gift in Wilmington and Wrightsville Beach and surrounding areas. June Sweeny's specialty is bringing life to floral arrangements with dedication to detail and unmatched personal service. June Sweeny retired from a career in business management, knowing that her life-long passion for flowers and floral design could receive her full attention. June will take care of arrangements for weddings,
anniversaries
, birthdays, apologies, or whatever creative idea you can come up with! Your arrangements will be created in a home studio, and consultations are private and relaxing. The entire process is personal and June has an intimate understanding of what you will need. To discuss a wedding or other event, check out June and her amazing work over at www.beautifulflowersbyjune.com!