Atlantic Shores Environmental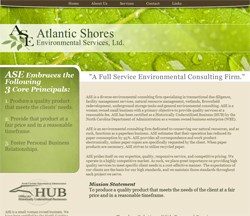 Like magic, another custom site is born from within the grasp of Blue Tone.
Atlantic Shores Environmental
Services is a locally owned consulting firm specializing in numerous environmental tasks such as: Due Diligence, Indoor Air Quality and Development/Facility Management.
ASE
has been officially recognized as a HUB and WBE business. Their establisher, Cheryl J. Moody holds several degrees, certifications, associations, and plenty experience for such responsibilities. The site hosts a very vibrant green and other nature tones, with tons of ASE's associations. One thing that I personally like is the high res. out of focus head photos, Mmm eye candy. So some say green is the new black? You decide.