Island Roast Coffee provides freshly roasted gourmet coffees and teas from all over the world!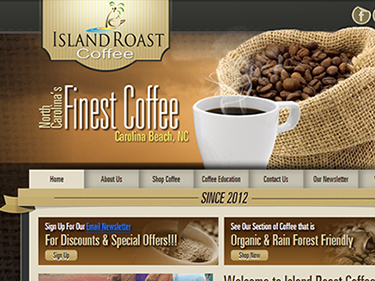 Located in Carolina Beach, NC on beautiful Pleasure Island, Island Roast Coffee LLC. is dedicated to serving the growing needs of the wholesale and retail specialty coffee industry. Offering only the finest coffees from the worlds top coffee producing regions, Island Roast Coffee is family owned and operated. They roast daily in small batches to ensure optimum quality, freshness and flavor. Most coffees are roasted, packaged and shipped within 24-48 hours. The selection of high quality Arabica coffees, fast service and competitive pricing, makes Island Roast Coffee your local quality coffee connection. From the roasting facility to your kitchen, Island Roast Coffee offer the most consistent, flavorful coffee available. Enjoy the freshest varietals, organics, fair trades, blends, espressos, decafs, and falvored coffess in the world. Also, feel free to sign up for their newsletter and be sure to check them out at
www.islandroastcoffee.com
.