Organic Spa Essentials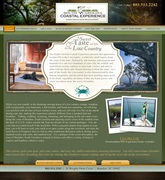 One of my personal favorites, this website is elegant and informative.
Organic Spa Essentials
creates all of their unique products from hand. Located at 109 North 38th St, this company showcases high quality organic spa botanicals for both men and women. The creator, Clara, created all of these unique products from her own experience with dry skin. She realized that most products contain alcohol, water, and many other unnecessary ingredients. Check out the website for a list of ingredients used in each product as well as the benefits that go along with using that product!